Santa 2009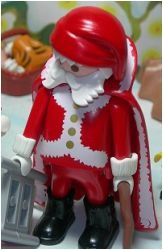 Santa 2009 appeared prior to the start of the season, rather than being born out of the 24th box per tradition. He was sent by the higher powers to assign a Lego Calendar, but not a Playmobil one. He continued to check in throughout the month and admitted that his name was Adam and also a station manager for a local cable network, but this turned out to be a lie.
He persisted into 2010 to keep tabs on
Mista Snowman
who had sole responsibility at first. After showing up for a routine review, he had to stay for the remainder of the month since things kept getting out of hand. There ended up being no Santa at the end of this year, so aside from the Lego Calendar, he became the final one.