Mark Winningham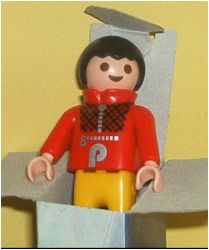 Mark Winningham first appeared on
December 16
. He is Mare's brother but the polar opposite, so he is inherently good.
Mista Snowman
at this point was being tortured by Mare and
Mysterious Boy
, so Mark tried to step in and talk some sense into them. They didn't listen, so he had to work with Bird and Pauly to find Killer Reindeer and Santa in order to finally stop them. He is tricked into playing hockey while Mare tries to kill Mista Snowman, but later comes back and gives up his Christmas present from
Santa
in order to save him. He still gets a gift anyway, but it's just a tuba. He didn't appear after this year since 2004 began the more or less consistent story arcs.
Sources
---
Initial -
Playmobil Santa Claus
(3955)
Sweater -
Playmobil Christmas Tree Decoration
(
3943
)